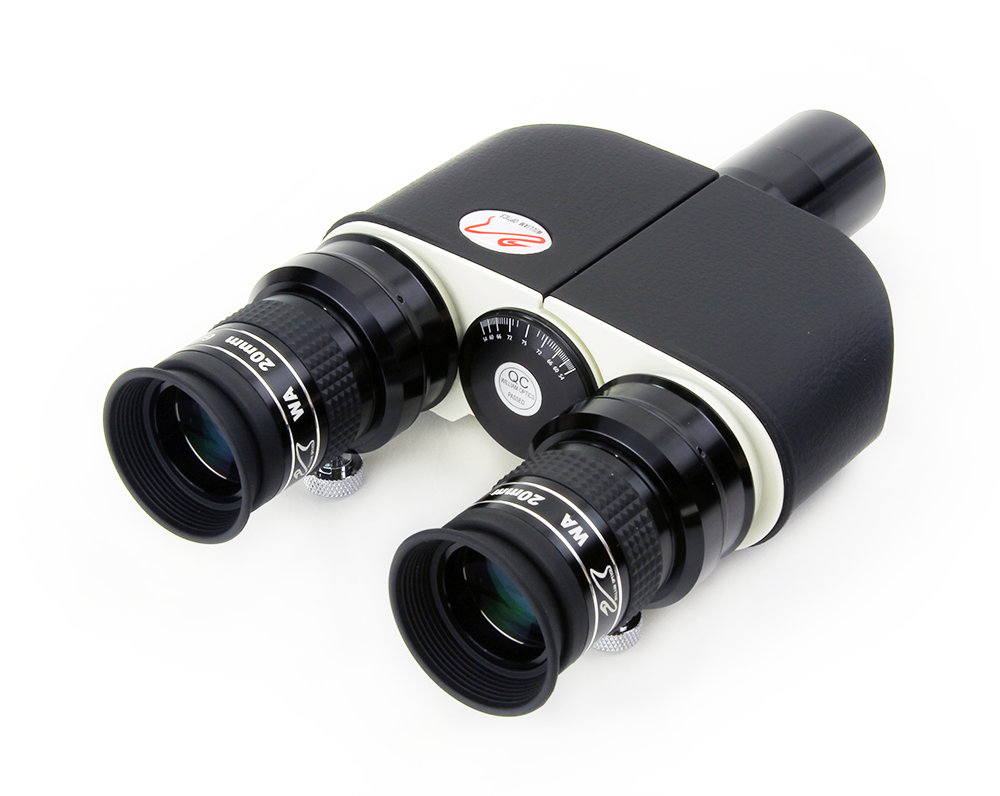 Binoviewers: use both your eyes when observing!
If you're an amateur astronomer who enjoys observing the night sky, then you might be interested in using a binoviewer with your telescope. Binoviewers, such as the William Optics Binoviewer, offer several advantages over traditional telescopes for visual observations. In this blog post, we'll discuss some of the benefits of using a binoviewer and why it might be a worthwhile investment for your stargazing pursuits.
Better Comfort and Ergonomics
One of the most significant benefits of using a binoviewer is the improved comfort and ergonomics that it provides. With a binoviewer, you use both eyes to observe the night sky, which reduces the strain on your eyes and provides a more natural viewing experience. This can be especially beneficial for prolonged viewing sessions, as it reduces eye fatigue and allows you to enjoy the night sky for longer periods without feeling uncomfortable.
Increased Immersion and Depth Perception
Another significant advantage of using a binoviewer is the increased immersion and depth perception that it provides. When observing the night sky with both eyes, you get a more three-dimensional view of the objects you're observing, which can make them feel more lifelike and immersive. This can be especially useful when observing planets or deep-sky objects, as it allows you to see more detail and appreciate the beauty of these celestial bodies in greater depth.
Improved Contrast and Brightness
Binoviewers can also provide improved contrast and brightness when observing the night sky. When using a traditional telescope, light must pass through the optics of the telescope and then through a single eyepiece to be used with one eye only. With a binoviewer, while the single eye only gets the 50% of the brightness that the eye would get in monocular vision, when the brain gets the two signals, it adds them together in such a way that the brightness is perceived as brighter than each eye alone see - this is called the "Summation" function of the brain.  
Easy to Use
Despite the many advantages that binoviewers offer, they are also incredibly easy to use. They are designed to be compatible with most telescopes and can be quickly and easily attached to the telescope's focuser. This means that you don't need any special skills or expertise to use a binoviewer and can start enjoying the benefits of binocular viewing right away.
Versatile
Finally, binoviewers are incredibly versatile and can be used for a wide range of astronomical observations. Whether you're observing the moon, planets, or deep-sky objects, a binoviewer can provide a more immersive, comfortable, and enjoyable viewing experience. Additionally, they can be used with a wide range of telescopes and eyepieces, making them a versatile addition to any stargazing setup.
In conclusion, a binoviewer can be a valuable tool for anyone interested in observing the night sky. With improved comfort, increased immersion, improved contrast and brightness, ease of use, and versatility, it's clear why binoviewers are becoming an increasingly popular choice for amateur astronomers. So if you're looking for a more enjoyable and immersive way to observe the night sky, then a binoviewer might be just what you need.