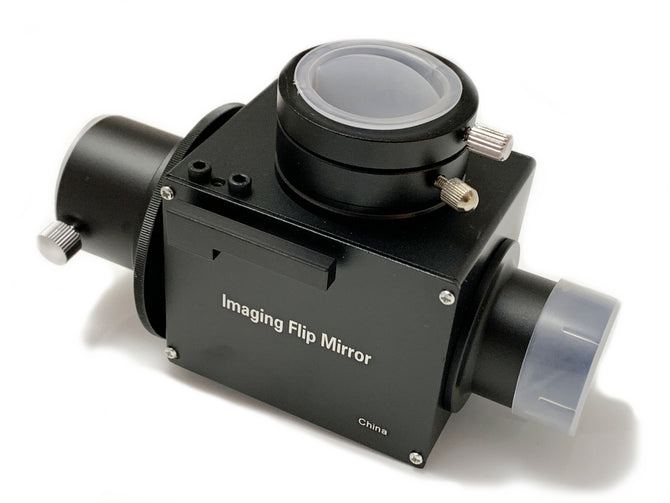 1.25" Flip Mirror for Astrophotography & Precise Focusing - Orion OEM
Sold out - more on the way!
Original price
$131.82
-
Original price
$131.82
A simply excellent engineered flip mirror system with adaptable T-threads on 3 sides, with helical style eyepiece focus adapter.
Designed for convenient CCD imaging. The device has a 1.25" nosepiece, threaded for standard filters on one end, which is inserted into a telescope's focuser, and an M42x0.75 T-mount thread on the other end to connect a suitable CCD camera. A 1.25" helical focusing eyepiece tube is provided for visual observations.
In visual mode, the internal lever-operated mirror is angled at 45 degrees to channel the light path to the eyepiece in order to easily focus and frame the image.
In imaging mode, the mirror is taken out of the light path to direct the light path to the camera.
Flip Mirror Specifications
Additional in-focus required: about 80 mm
Mirror: precision high reflective optical mirror
Weight: 300 g
Dimensions: 55 x 55 x 73 mm (HxWxL)
Includes:
Dual Flip mirror lever (one each side)
1.25" nosepiece T-mount adapter
T-T adapter locking ring
FFS fine focusing set (helical style focuser)
1.25 inch removable output adaptor
M42 dust cap
Allen key
Please note: this is the OEM version of the Orion Astrophography Flip Mirror - that is, the exact same model only without the brand logo printed on the sides. It has received excellent reviews online.