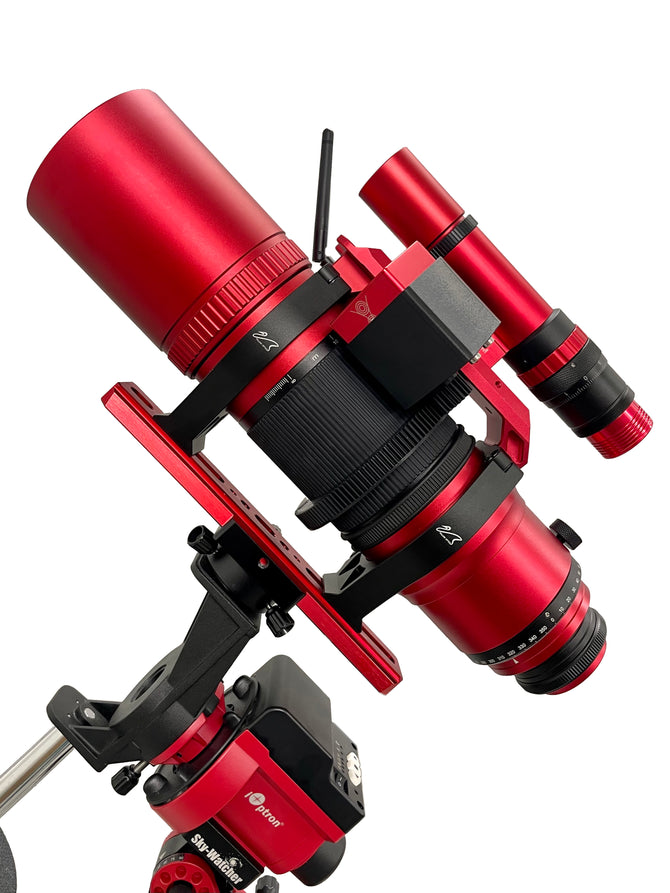 Black Cat Mount for William Optics RedCat 71 ZWO ASiair, EAF & guide scope
Sold out - more on the way!
Original price
$126.36
-
Original price
$126.36
Black-CAT Mount for RedCat 71
Australian Exclusive Distributors

Smart and good looking connection of ZWO ASiair, EAF and guide or finder scope to your William Optics RedCat 71 telescope.
Black-CAT mount integrates the components seamlessly to your telescope making it work and feel like one piece of precise optics, electronics and mechanics to help you achieve your goal - pinpoint sharp astro pics!
Black-CAT Mount connects ZWO ASiair, EAF and guide or finder scope to the William Optics RedCat 71 telescope. The mount includes precise gears that allows the EAF to control the focus of the telescope.
The benefit of the gears compared to belt is that the gears don't bend the tube of the telescope. Black-CAT allows you to install all components as near as possible to to the telescope which makes the balancing of your astrophotography setup easier. Backlash of the Black-CAT Mount gears is minuscule compared to the backlash of the EAF gear box .
All Black-CAT Mount parts are made of wear and weather resistant ASA plastic and the mount has been tested to work in cold environment (even below -25° Celsius, -13° Fahrenheit) for months with no issues. The ASA plastic withstands heat up to 80° Celsius (176° Fahrenheit) and UV-light without bending or deforming.
Black-CAT Mount fits perfectly to RedCat 71 telescopes.

Black-CAT Mount is easy to install and all necessary screws, nuts and washers to connect ASiair, EAF, Vixen style shoes for guide or finder scopes and William Optics Saddle Handle are included with the Black-CAT Mount.

Black-CAT Mount is made in Finland and the kit includes these parts:
Here is the Black-CAT Mount assembly instructions.