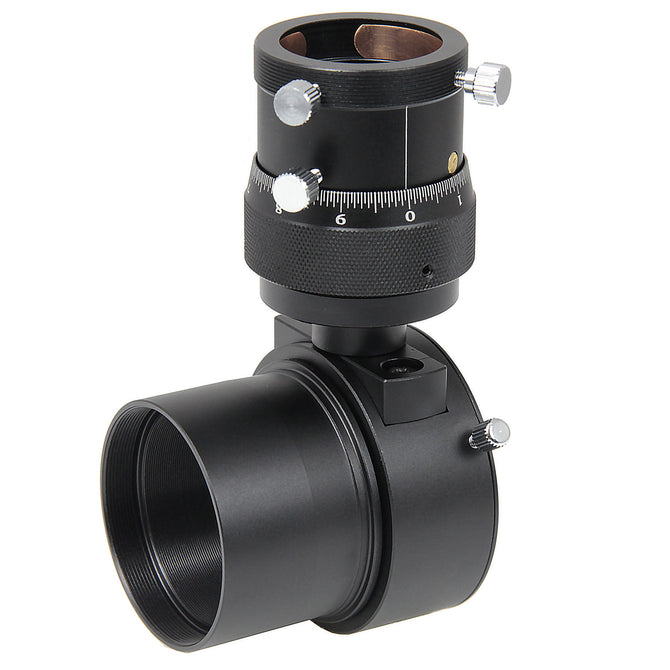 Off Axis Guider
Sold out - more on the way!
Original price
$180.91
-
Original price
$180.91
Omegon off-axis guider with micro-focusing - for successful astronomy photos without a guide scope
Why it is sometimes better to take pictures with an off-axis guider
With an off-axis guider, perfect astrophotography is virtually within your grasp. Long exposure photos require precise tracking, which is the specialty of this guider, making it one of the necessary tools for astrophotography. 
The advantages in a nutshell:
lets you take beautiful astronomy photos with round stars
for refractors, SCs, MAKs and RC telescopes
off-axis guider only 24mm in overall length - very compact
robust yet light - weighs only 180 grams
45mm optical transmission - full illumination, even with large chips
micro-focusing - especially smooth helical focusing with 0.05mm accuracy
75mm of back focus 
An off-axis guider is a brilliant invention. This device sits in the 2-inch focuser in front of the camera. A small prism directs a little light from the telescope into a separate tube - where your guide camera or crosshair eyepiece is attached. This makes it possible to instantly correcting any tracking errors during the extended period over which your camera is exposing the image - for perfectly round stars!
The connections
Easy to adapt - the Omegon off-axis guider has an M48 thread on the telescope side with a detachable 2" nosepiece.
On the camera side the OAG comes with an M54 opening (non threaded) and an M54 to M48 reduction ring, so you can connect any 2" camera & extension tubes. The ring is securely held in place with 3 thumb screws, allowing easy rotation of the whole camera assembly for perfect framing.
On the guiding side, the Off Axis Guider comes with a micro focuser that features both an M42 male thread as well as a classic 1.25" connection point perfect for guide cameras like the ZWO 120MM Mini.
Exact micro-focusing with 10mm travel - for auto-guider
A small prism directs light into the control unit of your guider- into a 1.25-inch helical focuser. Now insert your guide camera. With the generous 10mm of travel allows you will find the optimum sharpness for your guide star. Impressive - this special helical focuser can be adjusted to 0.05mm using the super fine scale. So you can always find the precise focus point very quickly.
Guide scope or off-axis guider?
For many, this is a matter of preference. Where the off axis guider shines is that is uses the native focal length of your imaging telescope, ensuring imaging at longer focal length is possible with excellent guiding accuracy given the Gide camera is utilising the full focal length of the telescope. It also keeps things compact.