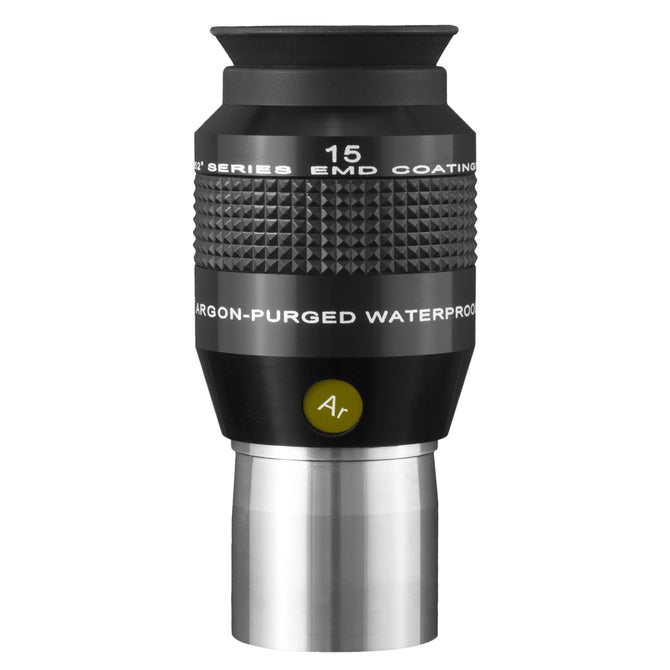 Explore Scientific 52° 15mm Eyepiece 1.25"
Save

$0.00
Save

$0.00
Original price
$153.64
-
Original price
$153.64
Solidly in the mid-magnification range for most amateur telescopes, the 15mm is a true workhorse for visual observers. If you love deep sky observing, eyepieces in this focal length range not only give healthy increases in magnification, but the contrast enhancement of giving a darker background sky can make all the difference of how galaxies and nebulae appear under suburban skies.
Explore Scientific Waterproof Eyepieces - Comfort, Quality, Value. The Explore Scientific 52° Series eyepieces are excellent flat-field multi-element oculars that can transform your visual astronomy experience. With an apparent field of view of 52 degrees, these eyepieces offer incredible value in a very nice eyepiece. Expect exceptional quality and value versus a comparably priced Plossol.
Another great benefit of these eyepieces is the excellent contrast and ease with which you can gaze, not directly at an object, but slightly to either side. This skill, called using averted vision, is especially helpful when observing faint objects, because using averted vision puts the image on a part of your eye that is more sensitive to light, allowing you to see fainter images.
Specifications
Size

:
(L) 93mm x (W) 43mm
Barrel Size

:
1.25" (31.7mm) / Tapered barrel
Field Stop Diameter

:
15.5mm
Coatings

:
EMD (Enhanced Multi-Layer Deposition) on all lens-to-air surfaces
Lens Elements/ Groups

:
6 in 3 groups
Filter

:

Thread
Standard 1.25" Filter Thread (M28.5 x 0.6)
Waterproof

:
O-Ring Sealed Argon Gas Purged; Tested Under 1 Meter of Water for 30 Minutes
Eyecup

:
Removable Flip-Down Style Soft Silicone Rubber
Lens Caps

:
Slide-on Top and Bottom
Materials

:
Optical Glass; Aluminum; Steel; Silicone Rubber
Markings

:
Laser Engraved: Focal Length; Series; Serial Number; Brand