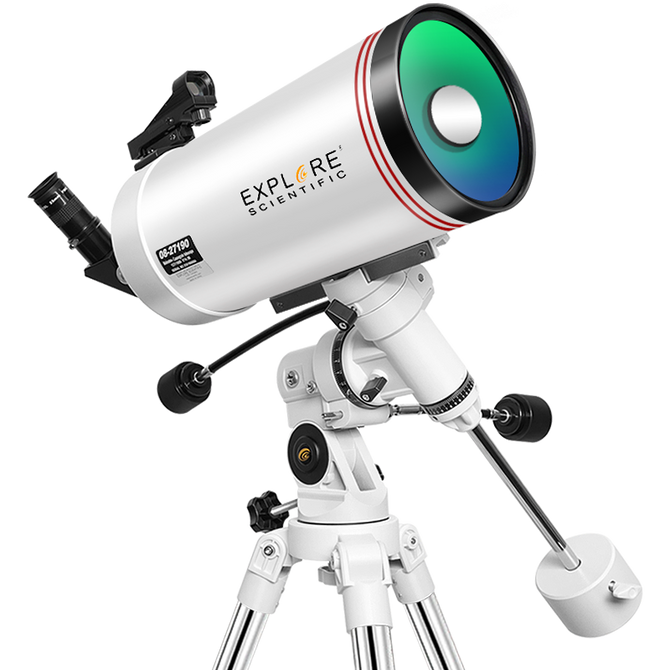 Explore Scientific First Light 127mm Mak Cassegrain Telescope with EQ3 Mount
Save

$0.00
Save

$0.00
Original price
$726.36
-
Original price
$726.36
Explore Scientific First Light 127mm Mak-Cassegrain Telescope with EQ3 Mount: Your Gateway to Celestial Marvels

Embark on a captivating journey through the cosmos with the Explore Scientific First Light 127mm Mak-Cassegrain Telescope. Featuring a generous 127mm aperture and advanced optical design, this telescope offers an unparalleled view of celestial wonders. Whether you're new to astronomy or an experienced observer, this telescope promises an extraordinary celestial adventure.

Optical Excellence: The Mak-Cassegrain design blends the compactness of a smaller telescope with the optical prowess of a larger aperture. Its precision optical system delivers sharp, high-contrast images, making it perfect for lunar and planetary observation. Delve into the details of lunar craters, Saturn's rings, and Jupiter's cloud bands with exceptional clarity.

Ease of Use and Portability: Paired with the EQ3 manual mount, this telescope offers stability without the need for power. Set up effortlessly in your backyard or transport it to your favorite stargazing spot. The manual mount encourages a hands-on experience, allowing you to engage intimately with the night sky as you navigate through celestial objects.

Uninterrupted Stargazing: The EQ3 mount's manual controls provide you with a connection to the universe that's free from power constraints. No batteries required, no motors humming—just the quiet beauty of the cosmos as you guide your telescope to captivating celestial targets.

Versatility at Your Fingertips: From casual observers to astrophotography enthusiasts, the First Light 127mm Mak-Cassegrain Telescope caters to a range of interests. Its high-contrast optics unveil the Moon's splendors and the planets' features, while the compact design ensures easy transport and setup.

Inspire Your Curiosity: The First Light 127mm Mak-Cassegrain Telescope invites you to nurture your astronomical curiosity. With the EQ3 manual mount, you'll learn the art of celestial navigation, gaining a deeper understanding of the night sky. This telescope is your gateway to a universe of exploration and discovery.

Whether you're taking in breathtaking lunar landscapes or observing distant galaxies, the Explore Scientific First Light 127mm Mak-Cassegrain Telescope with EQ3 Mount empowers you to connect with the cosmos in a personal and meaningful way. Start your journey into the stars today and uncover the marvels that await.


Specifications:
Item Number:  FL-MC1271900EQ3
Comes With:  One 25 mm Plössl Eyepiece, Red Dot Viewfinder, Smartphone adapter, Downloadable Software
Lens Coatings:  Fully Multi-Coated
Magnification: 250x
Focal Length: 1900mm
Focal Ratio: f/15
Optical Diameter: 127mm
Eyepiece: 25mm & 10mm Plossl
Mount Type: EXOS Nano EQ3