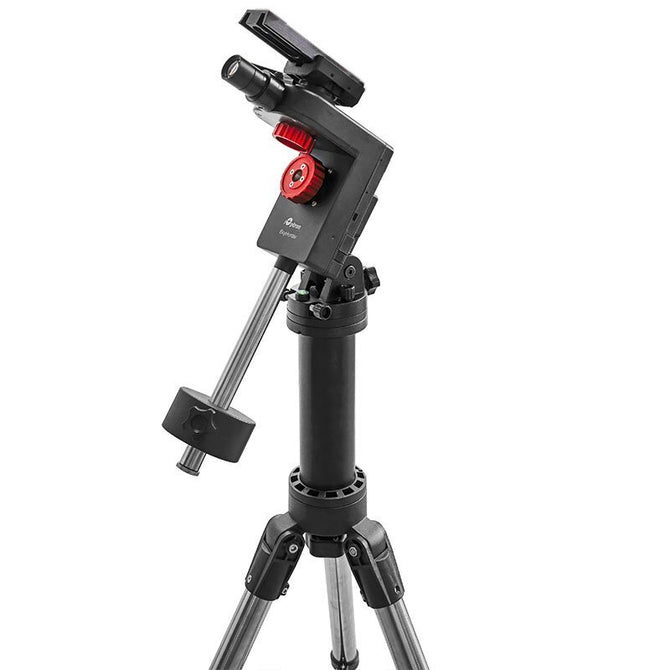 iOptron SkyHunter EQ/AZ GoTo Mount with iPolar
Sold out - more on the way!
Original price
$1,180.91
-
Original price
$1,180.91
Tripod is included! IN STOCK NOW - All SkyHunter mounts now supplied with updated boards to address the slewing issue.
The iOptron SkyHunter EQ with iPolar is the ultimate in Grab N' Go portable mounts with GoTo functionality. The built-in Wi-Fi adapter allows for control from smartphones and tablets on both iOs and Android via SkySafari and through an upcoming iOptron dedicated app. It can also be controlled through a computer via ASCOM and INDI. The built-in battery makes it instantly operable without the need for external power source.
The integrated iPolar electronic polar alignment scope offers unbeatable polar alignment accuracy for long unguided exposures without star trailing. It is also a must for use in areas affected by light pollution, making the whole process quick and painless.
With a payload of 5kg for a feather weight of only 1.3kg, it is the lightest and most compact full function mount on the market. The mount can be used in either Equatorial (EQ) or Alt-Azimuth (AZ) modes. 
in EQ mode, the mount is perfect for serious Astro imaging with small telescopes.
Super quiet dual axis servomotors with optical encoders and synchronous belt drive insure accurate tracking.

Four tracking rates are available: 1x, 1/2x, solar and lunar (1x celestial tracking for imaging the night sky and stars. 1/2x speed for imaging both starry night and landscape at the same time). All four work in both northern and southern hemispheres.
 Included in the package:
Mount head with built-in iPolar scope
EQ wedge
Steel tripod (#3221)
Counterweight
Extension pier (#8041)
Everything you need is included. 

Features
Specialized Grab N' Go GoTo EQ/AZ mount
iPolar electronic polar scope
Mount weighs 2.9 lbs (1.3kg)
Payload 11 lbs (5kg) (balanced, excludes CW)
Dual-axis servomotors with optical encoders
Tracking speed: solar, lunar, 1X, 1/2X, S/N
Operation in both northern and southern hemisphere
EQ wedge
Vixen dovetail saddle
Built-in rechargeable battery for up to 10 hours of operation (20°C)
Built-in WIFI adapter for full ASCOM, iOptron Commander and Sky Safari control
USB port for firmware upgrade and computer control
Optional Go2Nova® 8410 controller with Advanced GOTONOVA® GOTO Technology
Counterweight Shaft: Φ 20 x 200mm with 3/8" thread, stainless steel
Counterweight: 3 lbs (1.35kg)
Attaches to a camera tripod with 3/8" or 1/4" threads
1.25" Stainless steel tripod (#3221)
Pier-extension (#8041)
One year limited warranty on mount, 90 day for battery