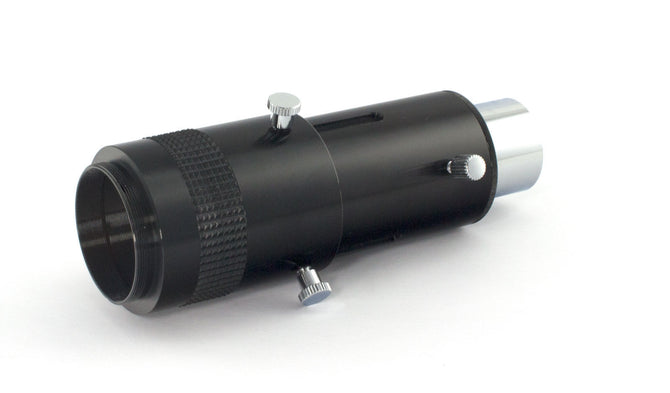 Meade OEM 1.25" Variable Projection Camera Adapter for astrophotography eyepiece
Save

$14.54
Save

$14.54
Original price
$59.09
-
Original price
$59.09
Meade OEM 1.25" Variable Projection Camera Adapter

Meade OEM fully precision machined metal construction Variable Projection Camera Adapter with 1.25" to T-2 removable nosepiece and also takes standard 1.25" filters. Will thread directly to your camera T-ring adapter.

Takes standard 1.25" eyepieces (with housing no wider than 34mm) which can be placed inside the camera adapter barrel for projecting an image direct to the CCD plane of a typical Digital SLR camera. The projection distance is adjustable for easy image scale increase without the need to refocus or change out the internal eyepiece. Two thumbscrews lock the sliding cell in position at the desired projection distance, and a third screw locks the eyepiece in position. A separable, thread-in unit also permits prime-focus photography by threading directly to the camera T-Adapter.

Base is machine flat for accurate seating to the telescope focuser as opposed to other models with rounded edges. Also features black rubber grip.

First, remove the eyepiece. Next, attach the SLR camera adapter where the eyepiece would normally be attached to the telescope, and screw in a t-mount adapter to the opposite end of the SLR camera adapter. Now you can attach your camera to the t-mount and you are ready to begin taking pictures!

Ideally suited to the photography of the moon, planets and bright deep sky targets through a telescope using 1.25" eyepieces.