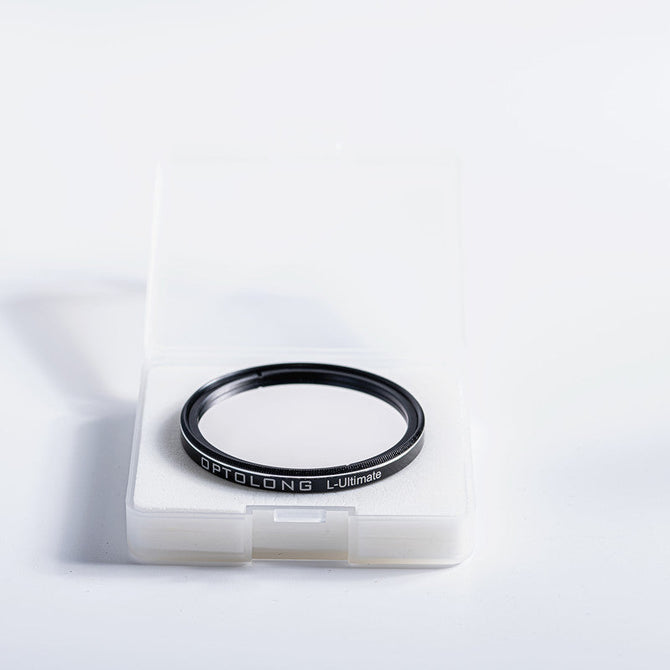 Optolong L-Ultimate Filter for Deep Sky Imaging dual-band 3nm narrowband - 2"
Save

$0.00
Save

$0.00
Original price
$535.45
-
Original price
$535.45
1.  L-Ultimate Introduction

The latest from Optolong's range of Dual Band Narrowband filters is the Optolong L-Ultimate. It is designed to offer 2 extremely narrow 3nm passing bands with the goal of allowing only H-Aplha and OIII through. These 2 wavelengths - respectively Red and Green - allow for one shot colour imaging in light polluted conditions like never before. By only allowing these 2 tiny wavelength through, it blocks light pollution, makes the sky background dark and results in increased contrast in deep sky objects with emissions in these 2 wavelengths, namely most nebulae.
It is the perfect tool to image from metro areas suffering from heavy light pollution. Also particularly useful for imaging with the moon out. 
It blocks artificial light from mercury vapour lamps, high and low pressure sodium vapour lights, and unwanted natural light caused by the emission of neutral oxygen in our atmosphere.
L-Ultimate has also been optimised in terms of halo performance, so that there is no obvious halo when shooting on a bright star object. 
Compared to the L-eXtreme, the L-Ultimate offers and even more aggressive filtering profile.
Please note this filter is designed for astro photography.
2.Spectrum and Characteristic
Cell: Thin for optimised compatibility with filter wheels
Substrate: optical glass
FWHM: OIII 3nm Ha 3nm
Blocking range: 300-1000nm
Blocking: >OD4
Surface quality: 60/40
Transmitted Wavefront RMS: λ/4
Parallelism: 30seconds

This is the 2" size filter.