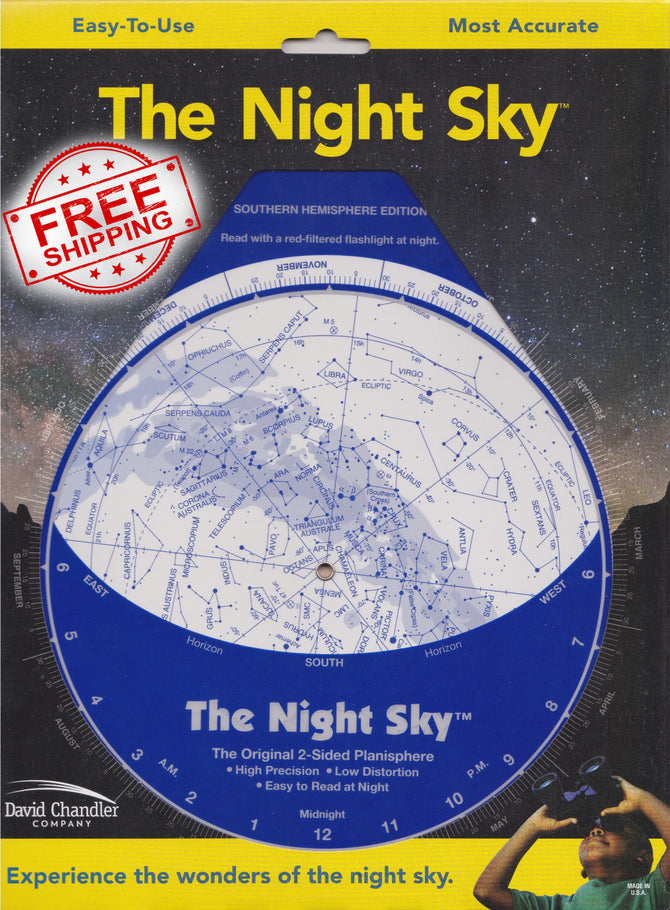 The Night Sky Planisphere - Southern Hemisphere by David Chandler
Save

$4.55
Save

$4.55
Original price
$27.23
-
Original price
$27.23
The Night Sky Planisphere for the Southern Hemisphere by David Chandler - Astronomy star map - Exclusive Australian Distributor

Free Shipping Australia wide
Generally regarded as the BEST planisphere!
This sturdy, plastic laminate covered planisphere is a quick and convenient way of seeing which constellations are above the horizon at any specified time and day of the year.
Sky and Telescope magazine adopted The David Chandler 'Night Sky' planisphere in 1976 and has promoted it ever since. It is widely recognised by the amateur astronomy and educational communities as the best sky chart on the market.
Eliminates over 90% of the distortion inherent in conventional one-sided planispheres.
"Chandler's planisphere (rotating star-finder wheel) is the finest available" Sky News
Key features:


Southern Hemisphere: Suitable for Australia, New Zealand, South Africa, Argentina, Chile and other nations in the Southern Hemisphere

 

White background with dark stars for easy nighttime readability: a must for a planisphere. 

Heavy duty plastic laminate covers the 2 sides of the planisphere so it does not get damp at night. 

Designed in collaboration with editors of Sky and Telescope magazine 

Selection of deep sky objects for binocular or telescope viewing included 

Large in size for easy readability! Measures approx 21 x 25 cm
The Night Sky™ is Designed to be Used!

Unlike coffee-table planispheres, The Night Sky is printed with dark stars on a light background, for easy nighttime readability.
The constellations are drawn simply, emphasizing the brighter stars which makes them easy to recognize and locate with the naked eye or entry level equipment.
Coordinate grid lines are shown without being intrusive. Coordinates are shown because they can be useful for cross referencing with star atlases.
A selection of deep sky objects for binocular viewing is included. It is important to point out to beginners that the best first telescope is a pair of binoculars. You may already have what it takes to start observing tonight!
The Night Sky is larger than it looks! The map scale is larger than on similar-size planispheres because the whole sky does not have to be shown on a single map. Even the 5″ pocket version is large enough to be quite readable.
The Night Sky™ is widely recognized by the amateur astronomy and educational communities as the overall best planisphere on the market.