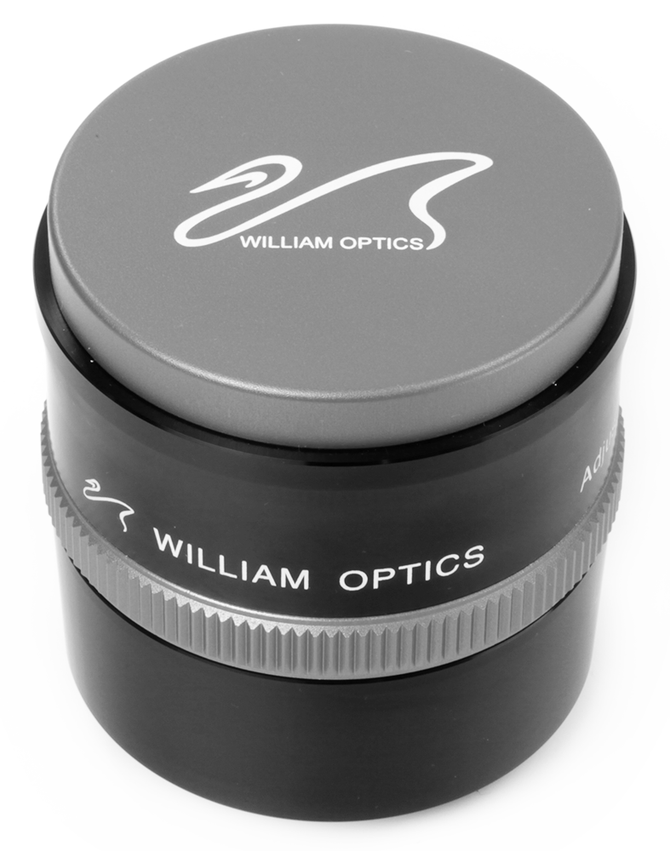 William Optics FLAT6AIII Flattener/Reducer 0.8X
Save

$0.00
Save

$0.00
Original price
$322.73
-
Original price
$322.73
Adjustable Reducer / Flattener for William Optics GT71, GT81, Z81, Z103 Telescopes

This elegantly designed 2" reducer / flattener has been designed to optimise the flat-field imaging performance of William Optics refractors.

Provides good illumination and a flat field a full frame sensor.

Attaches directly to telescopes with an M63 thread on the end of the focuser.
Internal thread accepts 2" astronomy filters.
Requires an M48 threaded T-ring if using a DSLR camera.

Large Sensor Illumination
Designed for Full frame chip-size DSLR cameras in mind.
FMC Triplet APO design.
Produced entirely with the best Ohara optical glasses.
Versatile
Reducing factor 0.8x.
Adjustable design, for perfect back focus it can be used with other models of refractor
48mm filter ready
Superb Finish
William Optics usual high quality fit & finish.
All internal surfaces threaded and blackened to prevent reflections.
Easy to Use
Will accept any standard 48mm T-ring for your camera.
Adjustable distance:
GT71 - 9.1mm
GT81 - 7.1mm
Z81 - 5.2mm
ZS103 - 2.5mm

 William Optics FLAT6AIII Flattener/Reducer 0.8x - Authorised Australian Distributor