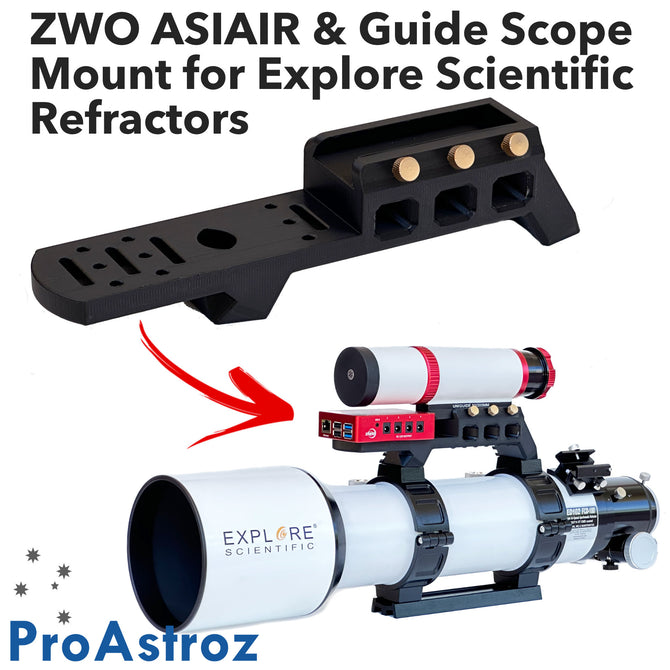 ZWO ASIAIR & Guide Scope Mount for Explore Scientific Refractor Telescopes
Save

$0.00
Save

$0.00
Original price
$113.64
-
Original price
$113.64
Upgrade your Explore Scientific refractor telescope with our ZWO AISAIR & Guide Scope Mount. Compatible with Explore Scientific ED102, ED102 FCD100, ED127, ED127 FCD100, ED152, AR102, AR127, AR152, ED115, ED140 and ED165 this precision-engineered accessory is designed to enhance your stargazing & imaging experience, offering unmatched functionality and convenience for amateur astronomers of all levels.
It allows for a ZWO ASIAIR unit and a guide scope to be mounted atop your Explore Scientific refractor telescope or compatible third party telescope.
Key Features:
Versatile Dovetail Mount: Our handle bar includes a built-in dovetail mount that seamlessly accommodates guide scopes, finder scopes, or other Vixen-sized accessories. With 3 locking bolts, it accommodates a wide range of accessories of different lengths. In addition the back of the dovetail is filled, so that even if a bolt was to come loose or not properly secured, the guide scope cannot slide out and fall backwards. Now you can easily expand your telescope's capabilities for astrophotography with a secure dedicated space for your guide scope assembly.
Integrated ZWO ASIAIR Mounting Platform: The handle bar features a dedicated platform for mounting your ZWO ASIAIR control unit (Pro, Plus, Mini) or other essential accessories. Designed with the specific ASIAIR mounting dimensions in mind (but with many additional connection points & slots for various other accessories), it allows several mounting positions while keeping the unit centred along the main axis of your telescope, ensuring it does not cause imbalance like mounting it to the side would. By placing the unit towards the front of the telescope, it also helps balancing the rig, often tail heavy with flattener, camera, filter wheel etc. Keep your control unit within easy reach and in the immediate vicinity of the guide scope assembly, streamlining your astrophotography setup. Stainless steel hex bolts included for mounting the ASIAIR unit.
Effortless Cable Management: Say goodbye to cable clutter. Our handle bar is designed with cable management in mind, providing 2 guide grooves on the sides as well as large through holes, allowing excess cable to be routed through. This enables a tidy and organised setup. Enjoy hassle-free operation without the worry of tangled wires.
Rugged and Reliable: Crafted from high-strength engineering grade plastic, this handle bar is designed for durability. Rigorously tested to withstand loads of 100kg without deformation or breakage, it guarantees years of dependable use under the night sky. Generous clearance to telescope as well as grippy dots located under the handle bar ensure a secure grip even when handling the scope with gloves, in the cold or if dew has formed.
Easy Installation: Installing the handle bar is a breeze. It utilises the native bolts of your Explore Scientific telescope handle, providing a secure and stable connection without the need for complex modifications.
Universal fit: works not only on Explore Scientific, but also on any telescope with adjustable ring spacing that can accomodate a 160mm spacing. The Mount connection holes are 6.5mm in diameter. Upgrade your telescope now!
Upgrade Your Experience:
Whether you're an astrophotographer, a stargazing enthusiast, or a seasoned astronomer, our Explore Scientific ZWO ASIAIR Telescope Handle Bar with Dovetail Mount is the perfect accessory to take your Explore Scientific telescope to the next level. Enhance your telescope's imaging capabilities, simplify your setup, and enjoy more immersive nights under the stars.
Specifications:
Compatibility: Explore Scientific ED102, ED102 FCD100, ED127, ED127 FCD100, ED152, AR102, AR127, AR152, ED115, ED140 and ED165 refractor telescopes. Suits third party telescopes with 160mm ring spacing.
Dovetail Mount: Vixen-sized dovetail (finder scope sized)
Material: High-strength, durable engineering grade plastic
Weight Capacity: Tested to support 100kg (220 lbs) with no breakage or deformation
Cable Management: Integrated cable management system
Installation: Simple, secure attachment using native telescope bolts
Spacing between rings connection holes: 160mm - holes diameter 6.5mm
Comes with stainless steel hex bolts for ASIAIR Unit
Over 6months of development, 65+ prototypes!
Does NOT include: telescope, ASIAIR unit, Guide Scope
Elevate your astronomy imaging game with the ZWO ASIAIR & Guide scope mount for Explore Scientific Refractor Telescope. Explore the cosmos with confidence and precision, and capture stunning celestial images with ease. Upgrade your Explore Scientific telescope today! Order yours now and unlock the full potential of your telescope.