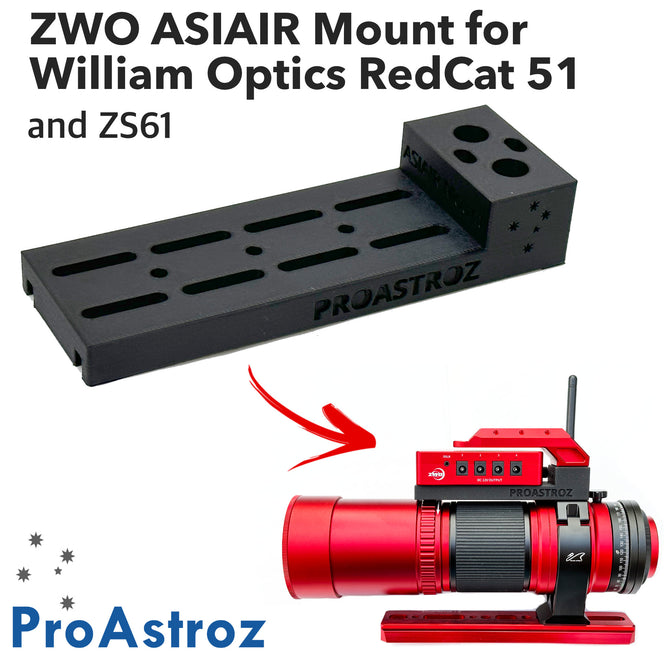 ZWO ASIAIR Mount for William Optics RedCat 51 & ZS61
Save

$0.00
Save

$0.00
Original price
$50.00
-
Original price
$50.00
Easily mount your ZWO ASIAIR unit (Plus, Mini, Pro - or any other accessory you would like to secure!) on your William Optics RedCat 51 refractor with our Asiair Mount. It is compatible with both the William Optics RedCat 51 and the William Optics ZenithStar ZS61 (we also have another model for GT71/GT81/FLT91/ZS81 and ZS73 - see our other items).

Made from carbon fibre reinforced plastic, it offers a lightweight (55g) yet sturdy solution to mounting your ASIAIR unit right along the main axis of your telescope ensuring it does not cause imbalance like mounting it to the side would. By placing the unit towards the front of the telescope, it also helps balance the rig, often tail heavy with flattener, camera, filter wheel, guide scope & camera etc. 
The various mounting slots allow for the unit to be installed in different ways to accomodate your cabling and accessories all while allowing clearance for your guide scope using the native William Optics saddle handle bar. 
The Saddle handle bar still uses its native attachment, being secured by stainless steel hex bolts directly into the tube rings of your telescope while the Asiair Mount is also independently secured to the tube ring using its own set of bolts. You can rest assured knowing your setup is securely attached to the telescope as per the original William Optics design.
The Asiair Mount offers various slots and connection points (dimensioned for M4 bolts) for other accessories you may want to mount onto this platform. Additionally the Asiair Mount offers 2 channels - one on either side - that work to both provide rigidity to the unit and offer a neat cable routing solution to help keep your setup neat and tangle free.
Comes with full 304 stainless steel hex bolts hardware. 
Please note: Telescope and ASIAIR unit are NOT included.