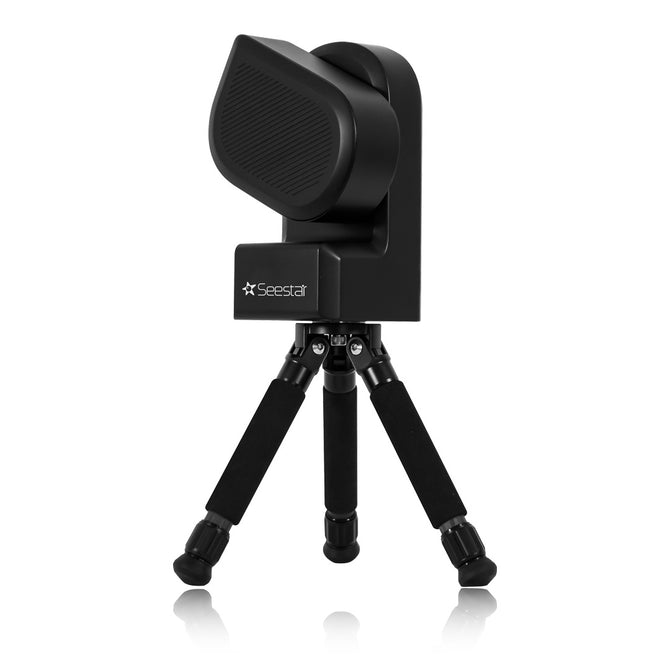 ZWO SeeStar S50 Smart Telescope
Sold out - more on the way!
Original price
$817.27
-
Original price
$817.27
Explore the Universe with the ZWO Seestar S50 Smart Telescope
The ZWO Seestar S50 is a new Smart Telescope that lets you view and photograph the Universe, even without any prior knowledge about telescopes and astronomy.
Combines a number separate, complex systems into an easy-to-use environment
Seestar S50 integrates a telescope, electric focuser, astronomical camera, intelligent
controller, mount, heating band, and filter switching device into a single unit, with a body weight of only 3KG.
With the use of a mobile app, it allows for easy capturing of sky objects such as the Sun, Moon, galaxies, and nebulas.
There's no need to learn how to connect various items or spend valuable time under clear night sky setting it all up
Total control over your imaging
Quickly learn the weather and recommendations for tonight's viewing, then select the celestial targets or landscape mode you are going to shoot.
Click to start shooting — that's how easy it is!
Discover the hidden Universe with Live Stacking
Observe the universe like never before.
The ZWO Seestar S50 allows you to create stunning images using live stacking mode.
The more images you capture the more color and details will grow before your eyes.
Things that you cannot see with your eyes alone will be gradually revealed.
The night sky can be viewed on your phone or tablet.


Immersive Visual Experience – 50mm APO Triplet
The ZWO Seestar 5-' professional grade triplet apochromatic optics offers beautifully crisp images of the night sky with excellent control of chromatic aberration. The high-quality coating also helps reduce light loss. This type of telescope lens is normally found on far more expensive astro imaging systems.
Auto Focus, GoTo and Tracking
Using the built-in sensors and star maps, combined with your phone's GPS sensor, the Seestar S50 will automatically scan the sky to complete automatically self-calibration and alignment process.
It's able to then locate astro objects in the night sky and follow them precisely while they're observed or photographed.
There's no need to worry about polar alignment. This is handled internally by the Seestar 50 during its startup procedure.
The Seestar 50 will also take care of guiding and make sure astro objects stay steady in their right positions during long exposures. This will mean sharper, more detailed astro photos right from the start.
The internal battery will power the Seestar 50 for about 6 hours, meaning you can head out for the evening without worrying about the need to carry external power supplies with you.
All of this is controlled by a built-in ZWO ASIAIR  – the pocket sized astronomy computer that's been praised by astronomers of all levels of experience around the world for its power and simplicity. It basically means less time spent fiddling with equipment and more time spent discovering the night sky.
Built-in Wi-Fi/Bluetooth  – Internet connection not needed
Control of the Seestar 50 is simply handled by your phone or tablet. You don't need a 4G or connection to your home Wi-Fi internet connection. This means you can view and image the Universe anywhere, including remote locations.
Built-in Sensors
Built-in sensors assist in levelling your tripod using your phone.
There's much more to ZWO Seestar S50 that we'll be featuring as it gets closer to launch in a couple of months!
Specifications
| | |
| --- | --- |
| Weight | 3kg |
| Size | 142x129x257 mm |
| Battery Life | 6 Hours |
| Aperture | 50mm |
| Lens Type | Triplet apochromatic optics (APO) |
| Focal length | 250mm |
| Sensor | Sony IMX462 |
| Image Format | MP4/AVI/TIFF |
| Resolution | 1920 x 1080 |
| Wi-Fi | 5G/2.5G |